The
Notgrass Company
was started as a family business in 1999 by Ray and Charlene Notgrass. Their homeschool curriculum is easy to use and Bible-based. I was sent
Draw To Learn Proverbs
to review, along with access to the e-book versions of the other four Draw To Learn books. The purpose of this series is to help children internalize truths from God's Word. It is a combination of art and Bible Study. The five Draw to Learn books available are Proverbs, Psalms, Paul, Acts, and The Life of Jesus. There are directions in each book on how to expand it into a unit study if you wish.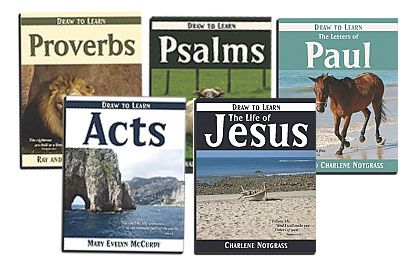 There are 150 lessons in each book, enough for an entire year's curriculum. Each lesson has a scripture to read and think about, and instructions for drawing a picture related to the scripture. I loved the concept of this book/curriculum. My son Chad loves to draw, and he really liked a lot of the drawings that were suggested. We did a lesson every weekday, and took our time reflecting on the scripture and then drawing. Here is one of Chad's drawings (for Proverbs 3:17-18).
The physical copy of the
Draw to Learn
books is $14.95. It is spiral-bound and consumable. The
e-books
are $9.95 and you can make as many copies as you wish. With only one child, I prefer the physical copy, but the e-book would be a good choice for multiple children. Since this book can be used with any age, it would be nice to do together as a family! I definitely recommend this series, and check out all the great products available at the
Notgrass website.